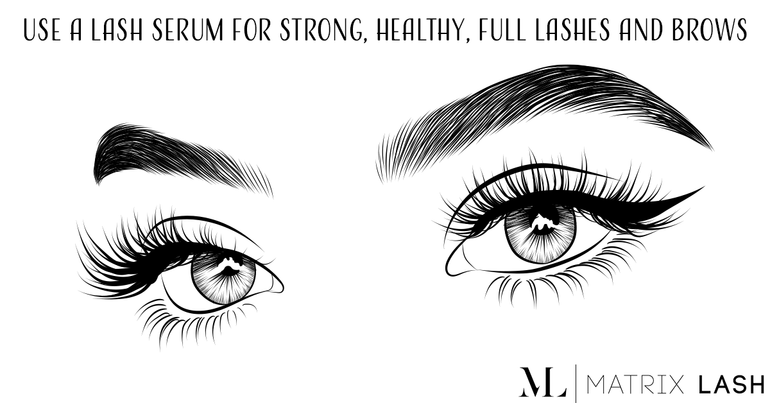 Eyes are the window to the soul, so why not enhance their beauty with a full and healthy set of lashes? Similarly, eyebrows totally frame the face; one small change can take you from looking happy and cheerful to an angry RBF in a flash! If you're not a pro at wearing falsies on the regular, worry not! Our Eyelash and Eyebrow Growth Serum gives you strong, beautiful, fabulous lashes to be fluttered at your whim. Use our eyelash and eyebrow growth serum and explore its amazing benefits! 
Using A Serum Accelerates Lash & Brow Growth
Did you know that your lashes are made of keratin? Keratin is a kind of protein, so using an eyelash serum promotes keratin's natural structure in the body, stimulating lash growth and filling the gaps in the follicles. The result is increased lash volume.
Helps With Hair Loss
Our Eyelash and Eyebrow Growth Serum is highly beneficial for people suffering from chronic hair loss conditions that may also slow down the growth of eyelashes, making them sparse, thin, or brittle. Research has proven that using an eyelash serum can lengthen the eyelash growth cycle to produce darker, fuller, and longer lashes. However, before using any serum in such condition, always consult with your doctor regarding the choice of the eyelash serum brand and the method of its application.
Eyelash Serum Ensures Added Moisture
Having dry eyes and itching constantly? Keep in mind that dryness in eyes and itching leads to steady eyelash hair loss because of frequent touching and rubbing of the eyes. Quenching the eyes and lashes is the best way to obtain instant relief. A high-quality eyelash serum like ours moisturizes lashes by nourishing and soothing the hair follicles, repairing the damage caused by other beauty products.
The Results
With our eyelash and eyebrow growth, you will start to see results in as little as two weeks, but you'll see the most drastic results after about a month of use.  However, the thicker lashes are still not totally guaranteed if your lashes are not moisturized, hydrated and strengthened—which is always a win you can get through regular eyelash care, eye mask, and a healthy diet.
So save your olive oil for your food, and not for your lashes!