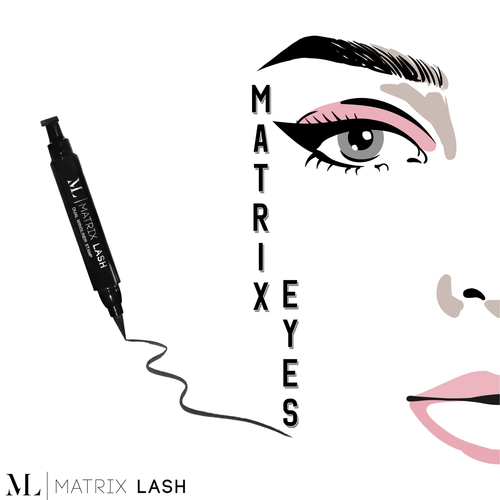 Consider your eyeliner your cosmetic paintbrush; one brush stroke can be the difference between smoldering and sexy or bold and graphic. Our Dual Stamp Wingliner is the ultimate product for creating a multitude of looks. No matter what your vibe is, use our Dual Stamp Wingliner for endless possibilities.
The Classic Winged-Liner 
This Look is super flattering and always in style. It's called a classic for a reason! Stamp on your wings on the outer corners of your eyes and simply flip the liner to draw a solid line, connecting the wings. Go as thin or as thick as you wish!
The Graphic Liner
This look is like the cat-eye's cooler, edgier older sister. To achieve this look, start with your classic wing, extend the outer corners and use the marker edge to draw an arrow by the creases of your lids. With some practice, you'll be looking fierce in no time.
The Dotted Liner
Taking a page out of Doja Cat's E-girl makeup look, this trend is a no-brainer. Simply dot along your lower lash line, and voila! Place as many dots as your heart desires, go big or go home is our take. Added bonus - it even makes your lower lashes look longer, too! 
The Floating Crease Liner
Inspired by celebs like Shay Mitchell and Gigi Hadid, this look is undoubtedly for those cool-girl moments. Super easy to achieve, just draw a thin line above your natural crease, and we'll all float on
We're loving these eyeliner trends for 2020. They're definitely inspired by the future, and worn in the moment. Show us your take on these liner looks by tagging us on Insta!